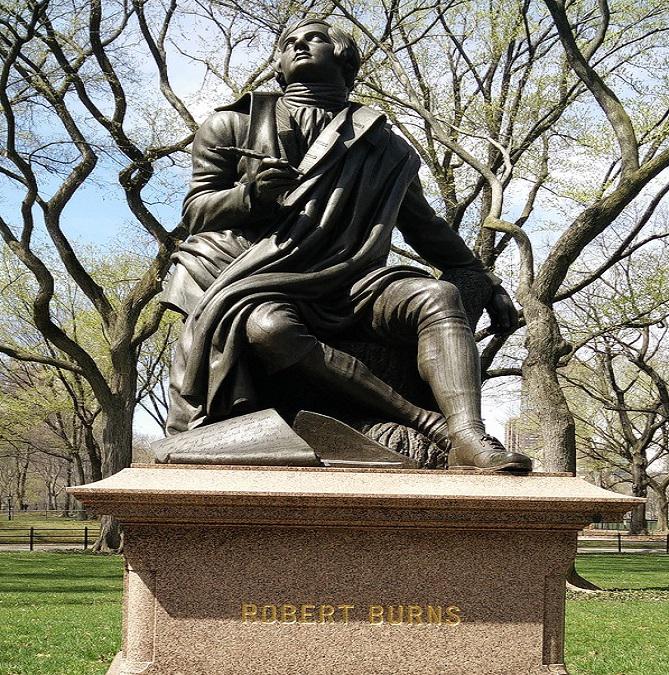 Statue to Robert Burns in Central Park NYC.
Special Programme hosted by Barry Rhodes
Barry Rhodes will be hosting a special Burns Night show on Saturday 25th January between 6 - 7 PM.
This is a celebration often held in Scotland in recognition of the life and influence on Scottish culture of Robert Burns, the famous poet, who wrote many well known poems and songs in the Scottish dialect, including A Red, Red Rose and Auld Lang Syne and was born on January 25 1759.
Traditionally a Burns Supper is held on this night, with Haggis, neeps and tatties. The haggis is bought in on a silver plater accompanied by scottish bagpipe music. Once placed on the table, the Supper host will read the "Address to a Haggis" written by Robert Burns as an ode to this Scottish dish.
It has been suggested that this tradition first began in July 1801, when 9 of his friends gathered at Burns Cottage, to mark the 5th anniversary of Burn's passing, eating haggis, drinking whiskey and reciting many of his poems.
Some people may also be aware of another of Robert Burns, poems, "To a Mouse" which he wrote on finding a nest of field mouse after it had been turned over by his plough. Unlike many farmers of the time, Burns was highly tolerant of all creatures and this comes across in his writings.
Michael Jackson was said to be obsessed with Burns and according to David Gest, Jackson's Manager, "Thriller" is thought to have been inspired by Burns' gothic poem "Tam O Shanter"
Worldwide, there are more statues dedicated to Robert Burns than any other non-religious figure, apart from Queen Victoria and Christopher Columbus.
So don't forget to tune in on Saturday 25th January at 6 pm on 104.7 FM locally or online via Radio Player.
We would like to wish a "Slainthe Mhath!" to all our Scottish listeners.