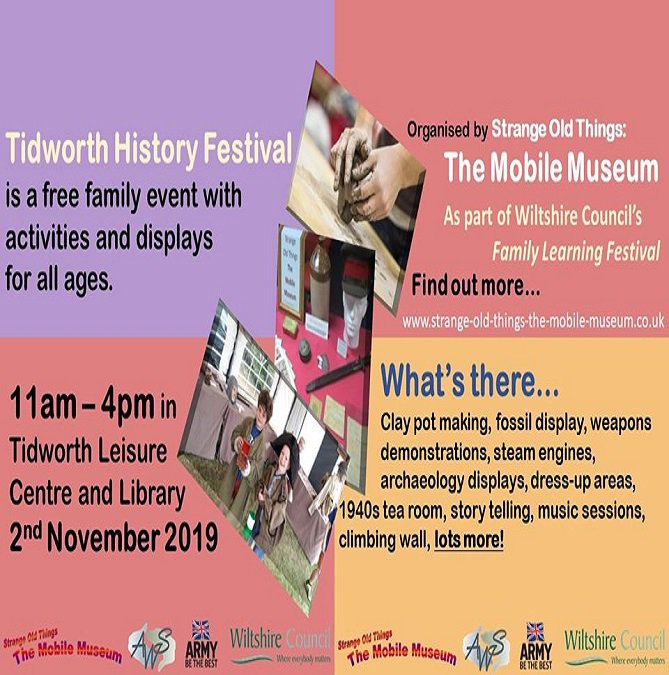 Tidworth History Festival organised by Strange Old Things; The Mobile Museum
And talks all things historical
Kev was joined recently in the studio by Ben Welbourne, from Strange Old Things; The Mobile Museum.
As the name suggests, this is a mobile museum which, originally set up during 2013, allows those who are unable to access the normal museums to see the collections. A number of groups have benefitted from this, including schools, mental health groups and Erlestoke Prison, with great response being gained from all.
As well as travelling around the country to give everyone a taste of history by seeing the artefacts, Ben also allows all the pieces to be touched, giving everyone an opportunity to actually 'feel' history in their hands, with nothing being kept behind glass. It is this connection to the past that inspired the museum initially, the knowledge that the piece held in your hands is the same now as it was when it was last used, perhaps a Roman coin or a piece of pottery which would have felt and looked the same to the Roman's who's property it was.
To find out more about the history and inspiration that led to the museum, you can listen to Ben's interview with Kev below.
And for anyone interested in seeing the collection the Mobile Museum will be coming to Tidworth Leisure Centre on 2nd November due to the Tidworth Learning Festival, a free family event for those of all ages.
Further information on the mobile museum and future events can also be found by visiting the Mobile Museums website.