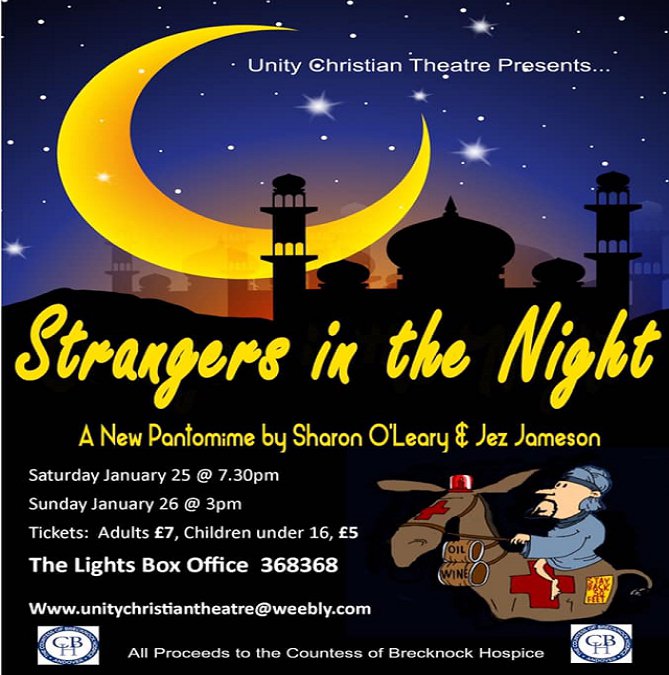 The upcoming performance from the Unity Christian Theatre as mentioned on the Monday Morning show
Visits the Monday Morning Show
Helen and Donna were visited by Sharon O'Leary from the Unity Christian Theatre to talk about their upcoming pantomime; Strangers in the Night.
Sharon has co-written this panto with her husband Jez Jameson, which is loosely based on the story of the Good Samaritan..
This will be a very family friendly event with a Dame and audience participation encouraged.
The panto will run on:
Saturday Jan 25th at 7.30pm
&
Sunday Jan 26th at 3pm
All taking place at The Lights in Andover.
Tickets cost £7 for adults and £5 for those under 16. Please call the Lights Box Office on 01264 368368 or visit their website here
All monies raised from this and previous shows have been given to charities, with approx £28,000 raised over the last 15 years. The charity they have chosen to support with this performance is the Countess of Brecknock Hospice, chosen in support of the organisations' costume designers late husband who spent a few weeks there before he sadly passed away.
There will also be a silent raffle drawn during the show, which will raise further funds for the Countess of Brecknock Hospice.
It was lovely to hear from Sharon today and we hope she will visit us again in the new year with an update on how much this performance has raised.