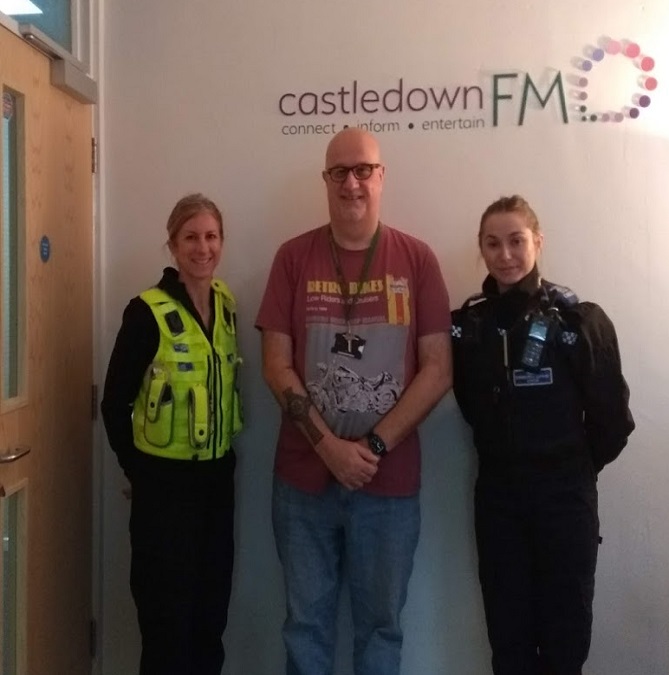 Amy and Juliet visit BP on The Thursday Morning Show
Visit the Thursday Morning Show with BP
BP was joined by Juliet Cox and Amy Jones from Wiltshire Police on Thursday to talk about their current drink drive campaign and some helpful tips to keep you safe and secure this festive period.
They wanted to remind our listeners that alcohol can stay in your system for longer than you may think, so would encourage anyone who is going out not to drink and drive, perhaps book a taxi or organise a designated driver instead. This is especially relevant over the festive season, with many people going out for drinks in the evening and then driving to work or doing the school run the following morning unaware that they may still be over the limit.
Current policy is that anyone who is involved in a road traffic accident will be breathalysed, with alcohol taking on average 1 hour per unit to be broken down by the body, but this will vary slightly for everyone dependent on a number of factors, including gender and metabolic rate. As part of their drink drive campaign, local pub landlords have been involved and are being asked, where possible, to prevent those they are aware have been drinking, from driving.
If you are aware that someone is drink driving and they are in the process of doing so, call 999. If you know that someone has driven whilst drinking or taking drugs in the past, please call 101. It is really important, wherever possible, to note down the cars reg number, even a partial plate can help. For further information please visit the Wiltshire police website here.
Juliet and Amy also had some helpful tips to keep our homes and possessions safe and secure, information that is important at any time of the year but especially so over the Christmas and New Year period with many properties either being empty for a time or full of extra possessions.
At the top of the list is ensuring there are lights on even when away to mimic usual behaviour, there are a number of timer switches available which can aid with this.
They were also keen to discourage people from mentioning absences from the home on social media as this is a clear advertisement that your property is empty.
Once the presents have been unwrapped be sure to dispose of wrapping paper and packaging carefully, don't leave branded boxes out for days to be recycled as it is clear evidence that new and valuable items are now in the home. Prior to the big day, ensure that presents cannot be seen from outside the house through windows or the front door, as this may again encourage unwanted visitors.
For the full list and further information please visit the Wiltshire police website here and to keep updated with future campaigns, you can visit the Amesbury Facebook page here.
Wiltshire and Swindon also run a Community Messaging system, which, once signed up to, will allow you to receive free messages from local police officers about policing and crime in the local area. These messages can be received via text, voicemail or email and there is a choice as to which organisations and what type of messages you receive.
For more information or to sign up to the scheme, please visit www.wiltsmessaging.co.uk.
It was great to chat with Amy and Juliet today and we wish everyone at Wiltshire police a very happy and safe Christmas and New Year.